I am a Licensed Psychologist at ASPEN MEDICAL GROUP in St. Paul, MN. I have been interested in poetry my whole life, and may put some stories about that here.
I might also include some information about my personal history: where I grew up, where I went to school, various places I've lived. If I have one, I'll include a picture of myself engaging in an activity I enjoy, such as a sport or hobby.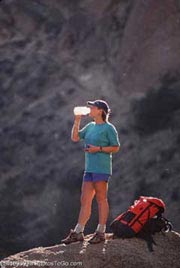 This p[icture reminds me of the week I spent in Arizona camping, hiking and writing poetry. The poems are on my webpage: Dine Time: The Beauty Way, available at My Favorite Links.